Barren to lush, Ningchang's new forests bloom
碳汇基金会国际部
专业号 2022/6/10 11:21:42
By TAN YINGZI and DENG RUI in Chongqing | China Daily | Updated: 2022-06-09 10:02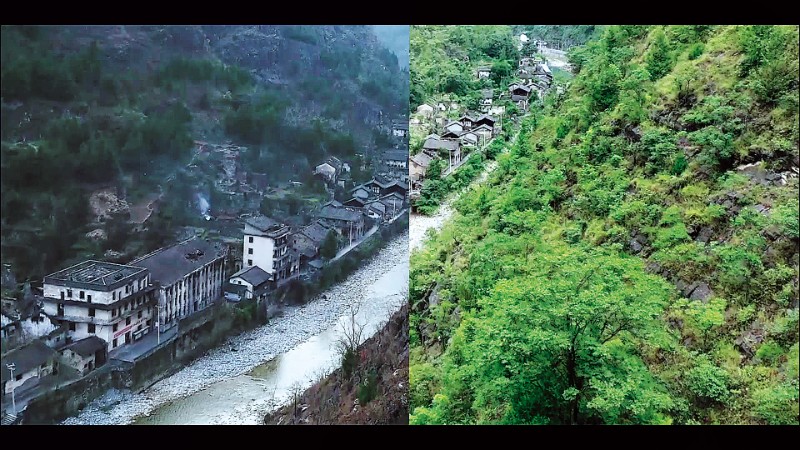 136 hectares of formerly empty land in Wuxi part of ongoing national afforestation campaign that is re-greening world
Barren, rocky mountains don't sound like the most promising place to plant a forest. Yet, four years ago, the people of Chongqing's Wuxi county worked precariously on steep hillsides and cliffs to do just that.
Now, 136 hectares of formerly empty land have been transformed into a green, vibrant landscape, and those responsible for the change have been dubbed the "cliff tree planters".
The successful endeavor has thrust one of the group's leaders, 65-year-old Lin Yunxi, into the spotlight.
Born in Xiabao township in 1956, Lin started life as a farmer but developed an expertise in tree planting with the local forestry bureau, which he began to work for as a young man in the 1970s.
In 1996, he became a contract worker for the bureau and started to encourage farmers to plant trees.
"A farmer's life is closely linked to trees," said Lin, adding that some of his earliest memories were of how destroying trees could lead to environmental damage.
Decades ago, some older farmers who raised cattle and sheep burned tree cover on a nearby hill to allow the grass to grow. Heavy downpours later washed away the overgrazed earth, covering the fields at the foot of the hill in mud and causing great losses.
Xiabao wasn't alone, as nearby Ningchang ancient town was also affected.
One of China's earliest salt-making sites, Ningchang dates back more than 4,000 years and was already thriving before the start of the Qin Dynasty (221-206 BC). It went on to become one of 10 salt-making cities during the Ming (1368-1644) and Qing (1644-1911) dynasties.
Regarded as the cradle of civilization in the Three Gorges area, it began to suffer from what is known in China as "severe rocky desertification". Also sometimes called "cancer of the earth", rocky desertification is characterized by soil erosion and bedrock exposure and is most common in karst rock regions.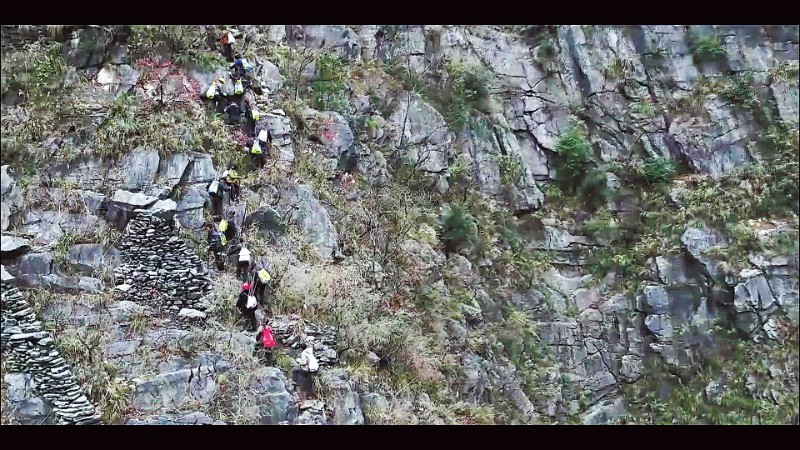 According to Chen Hui, who works at the local forestry bureau's ecological restoration department, the degradation of the land around Ningchang was directly related to salt-making. At first, inhabitants cut down trees for fuel to boil the water they took from a natural brine spring to extract salt. When they later switched to using coal, vast quantities of mountain soil were dug up for clay, which was mixed with leftover coal powder to make coal balls.
As a result, Chen said, "natural recovery became almost impossible".
Green development is one of the key concepts in the 14th Five-Year Plan (2021-25), under which China has pledged to boost low-carbon development and the efficient and safe use of clean energy, decrease carbon intensity and help different areas of the country reach peak carbon dioxide emissions as early as possible.
Afforestation is playing a role in the national effort to meet the country's upgraded international commitments to mitigate climate change.
To begin the healing of the barren mountains, about 200 people, including Lin's group of 65, were asked by the local government to help plant trees in Ningchang's Guanshan Forest Center over a three-month period in October 2017.
"It wasn't easy," said Lin, adding that his group had to plant trees on loose, rocky cliffsides with gradients of up to 80 degrees and heights of nearly 400 meters. Footing in places was less than 50 centimeters wide.
"A single mistake up there could be a disaster," he said.
To ease concerns, Lin took the lead when it came to planting, demonstrating safety and planting procedures.
To plant saplings in the steepest areas, Lin divided his team, mostly male farmers, into smaller groups of three to four people. The youngest adult in each group, known as the "gecko man", was lowered to the planting site on a rope by his teammates, who stood above where footing was relatively flat and stable.
After the tools were lowered, the "gecko" dug a pit shaped like a fish scale or a semicircle, 1.3 meters across and about a meter deep. To maximize water retention, soil, sand and fertilizer were then lowered to fill the pit. Once the sapling was planted, the "gecko" was hoisted back up again.
Lin said that his group dug more than 60,000 pits and that they had to carry everything by hand, including saplings, soil, sand, water and tools. Sometimes, they'd lower the "gecko" up and down the cliffs 20 or more times a day.
Lin said injuries from falling rocks were common, but that didn't stop any of them.
In close to three months, nearly 200,000 saplings-including liana, maple, yellow locust and triangle plum-were planted over 136 hectares of steep, rocky land, about half of which was done by Lin and his group.
Now, the mountains have a new look. With deeply-rooted trees, they are green and flourishing, and according to the forestry bureau, over 95 percent of the saplings have survived.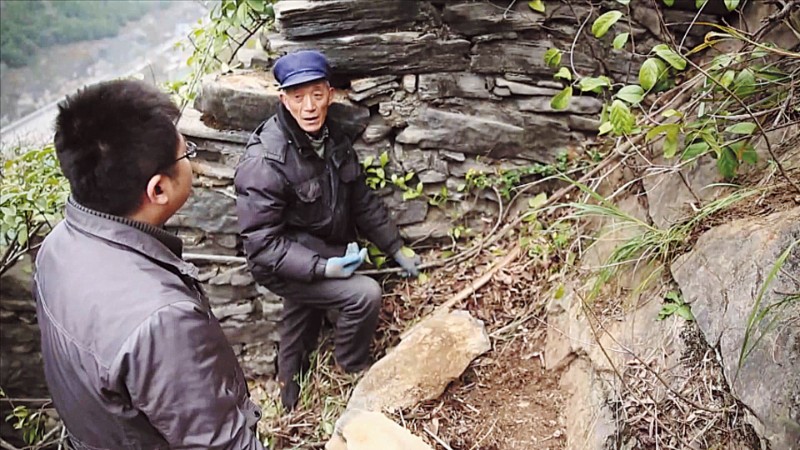 China plants more forest than anywhere else in the world. Photos taken by NASA satellites in 2019 show that the world is actually greener than it was 20 years ago, and that China is responsible for much of that growth.
In the past year, 3.6 million more hectares have been added, over double the area of Beijing.
According to the National Forestry and Grassland Administration, there are currently 220 million hectares of forests in China, with coverage reaching 23.04 percent by the end of last year.
"The longer I plant trees, the greater my attachment to the woods," Lin said, adding that at first, he planted trees to make a living, but now that he's seen how the mountains have changed and how afforestation has helped improved the lives of farmers by protecting the soil and water, he feels a great sense of pride.
His daughter, Lin Xianquan, has asked him several times to give up his risky work and stay at home, but he always refuses.
He said the toughest part of the job is done, and that management work, like weeding, pruning and applying fertilizer, is much easier. With the trees, the hillsides have become more stable and safe.
"I am of sound body," the thin, sprightly man said. "Even if I can't continue to plant trees in the future, I'll make sure the youth know about their importance."